"This hallowed shrine of St. Finbarr dates back to the 6th century where he communed with God.  The surrounding mountains were his cloister and the lake was for him the mirror of God's grandeur, stone cells commemorate his hermitage. From here he journeyed the river-way of the Lee to become the first bishop and founder of the church and city of Cork.  He died in 623AD and hist feast day is celebrated on September 25th. "
               –   Cardinal Timothy Manning, Archbishop of Los Angeles.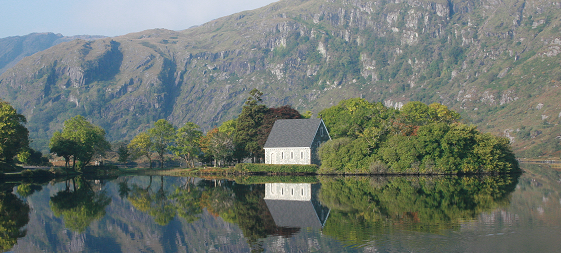 Welcome to St. Finbarr's Oratory & Island, Gougane Barra, a place of prayer, pilgrimage and peace. Part of Uibh Laoire Parish and the catholic diocese of Cork & Ross.
Groups and indiviuals who wish to use the Oratory and its grounds are asked to respect its sacredness and ethos.
People who wish to to make use of the Oratory or the grounds for the purposes of any assembly, gathering or function of any sort, must seek permission first from the Parish Priest in writing and submit evidence of insurance indemnity for such proposed activity.   For further information please call (026) 49838 / (087) 784 2534  or email stfinbarrsoratory@gmail.com
Clikc here for further information